The +10 Mindset
Are you register to vote? The March primaries are coming quickly, and one of the candidates
on the ballot
will be elected to make decisions about your future. More specifically, our next
legislators
will make decisions about education, the educators and your child's
future in education.
Your vote
is your voice, and I encourage you to become familiar with the
candidates and informed
about their platform,
so that you can choose the best candidate for issues
that matter to you most.
Here is how you can
register to vote
. The deadline to register is February 5. Early voting begins
on February 20,
and election day is March 6.
Art Excellence
Congratulations to
Kourtney Wheeler
(below left) who placed first for advanced painting at the Collin County Creative Arts Show at Myers Park last week, and Julia Taylor (below right) who received 3rd place in drawing.
Their art teacher is
Alise Burke
. We are so proud of our students for their hard work in pursuing excellence in the fine arts.
Upcoming Events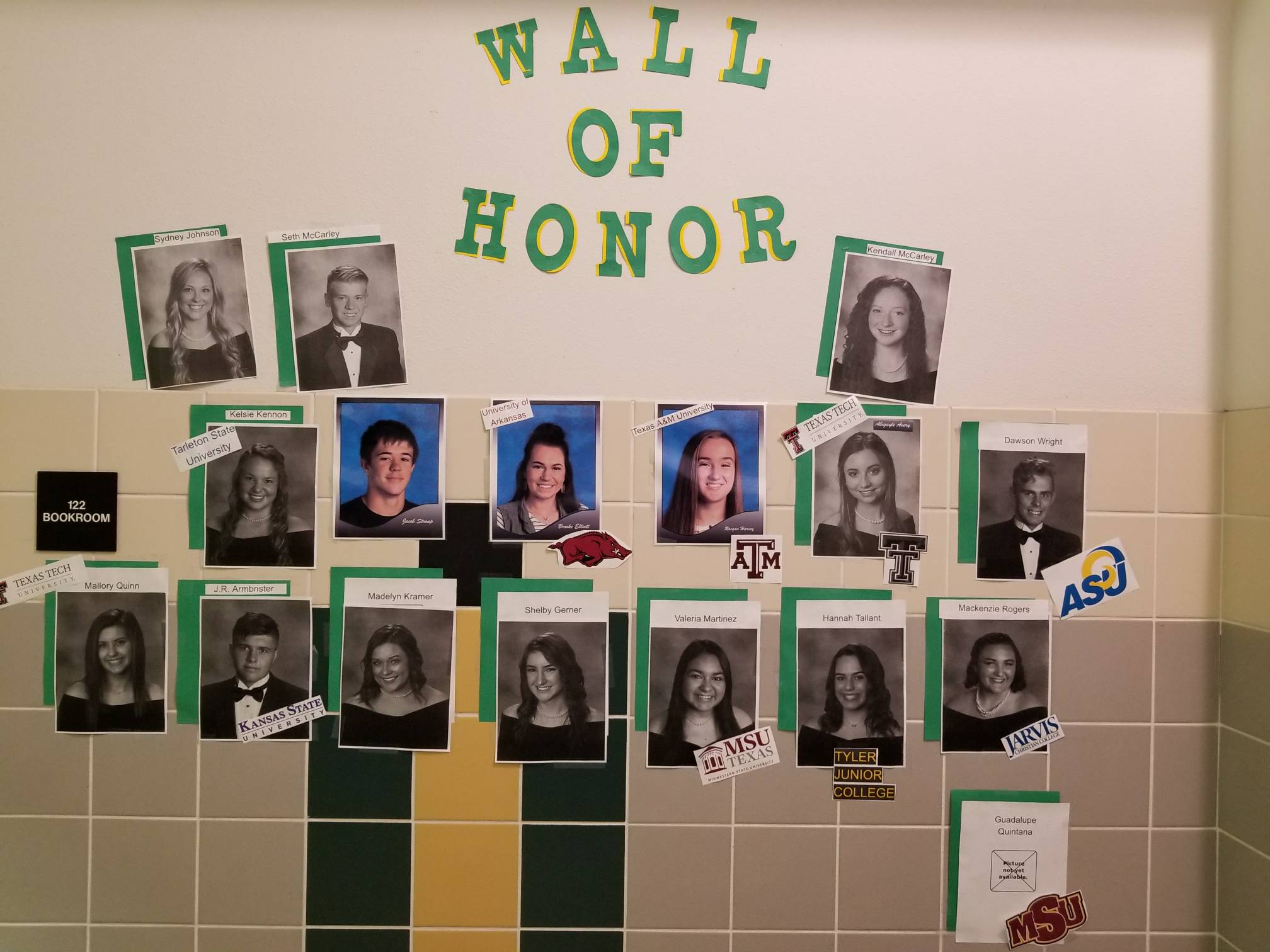 Our College Bound Seniors are increasing on the
Wall of Honor. Our goal is 100% of the senior class
having their face on this wall by May.
Fri, Jan 26 - HS BB vs Trenton AWAY
Sat, Jan 27 - Boys & Girls Powerlifting at Gainesville ISD
Tue, Jan 30 - HS BB vs Bland HERE
Thu, Feb 1 - JH BB vs Wolfe City HERE
Fri, Feb 2 - HS BB vs Celeste AWAY
Sat, Feb 3 - JH BB Tournament
Mon, Feb 5 - Baseball @ Farmersville
Tue, Feb 6 - HS BB vs Honey Grove HOME
Wed, Feb 7 - CX Debate at Honey Grove
Fri, Feb 9 - Boys HS BB vs Wolfe City AWAY
Fri, Feb 9 - Father / Daughter Softball Game
Sat, Feb 10 - Softball Scrimmage vs Leonard HERE
Sat, Feb 10 - Powerlifting at Whitesboro

Mackenzie Rogers signed her Letter of Intent
to Jarvis Christian College on a softball scholarship
Congratulations to Mackenzie!

Mon, Feb 12 - BRHS BETA Induction at 6 p.m.
Tue, Feb 13 - Boys HS BB at Trenton
Tue, Feb 13 - Baseball at Commerce
Wed Feb 14 - Valentine's Day
Thu, Feb 15 - Trenton Tennis Tournament
Thu, Feb 15 - Girls at Howe Powerlifting Tournament
Thu - Sat (2/15 - 2/17) - Softball at Melissa Tournament
Sat, Feb 17 - Boys at Howe Powerlifting Tournament
Sat, Feb 17 - Father / Daughter Dance at BRES
Sat, Feb 17 - Baseball at Muenster
Calendars
Congratulations to our 4 States Honor Band Members.
Pictured are Eddie Ramirez, Raegan Harvey, Colton Parrish,
Mr. Terry, Jared Stroman, Marlaina Morgan, and Mr. Carpenter.
District Calendar
Elementary School Calendar
Middle School Calendar
High School Calendar
Election Information
Natalie Walker

 and 

Kayla William

s 
each got fourth place in their 
respective weight classes at S&S.
The March primaries are coming quickly, and I wanted to share information about the election. Here is how you can register to vote. The deadline to register is February 5. Early voting begins on February 20, and election day is March 6.
New Staff Members
Please join me in welcoming our newest staff members to BRISD.
Joanna Verde
will joining our district in our Little Cubs Daycare Program. She is a valuable member of our community and we welcome her.
Also, we would like to welcome our newest teacher,
Erin Hale
, to BRISD. She will be teaching 7th grade English Language Arts. She is a recent graduate of the University of North Texas with a Master's degree in English.
Your Input Matters
If you have a question, suggestion, or comment, please let a comment below. Comments are not published immediately. Please do not leave negative comments about individual people. If you have a negative comment, please email the principal, superintendent or call 972-752-5554.